EVENT DETAILS
15 - 17 Jun 2023
Prague, Czech Republic
SOE 2023 European Society of Ophthalmology, 15 – 17 June 2023 in Prague, Czech Republic
A multi-specialty Ophthalmic in-person meeting with world class scientific programme, symposia, workshops, live surgery, debates, mystery cases and updates on all Ophthalmic Sub-Specialties.
Asia Cornea Society was invited to put together a session at this meeting.
The next SOE 2025 Meeting will be held in Lisbon, Portugal from 7 June to 9 June 2025.
---
EVENT DETAILS
25 - 28 Aug 2023
Hong Kong
CAST 2023 The 18th Congress of Asian Society of Transplantation, 25 – 28 August 2023 in Hong Kong
Renowned experts gathered together in Hong Kong for the Congress of Asian Society of Transplantation (CAST). The scientific programme covered from cutting edge science to ethical issues in transplant.
Association of Eye Banks of Asia (AEBA), under the auspices of Asia Cornea Society, was invited to organise two symposia on corneal donation and transplantation. It was an honourable pleasure to have this opportunity to share knowledge with our organ transplant colleagues on the challenges and successes in eye banking to promote further collaboration, and also a chance to bring together experiences from different countries in Asia to fight against cornea blindness.
---
EVENT DETAILS
23 - 25 Nov 2022
Bangkok, Thailand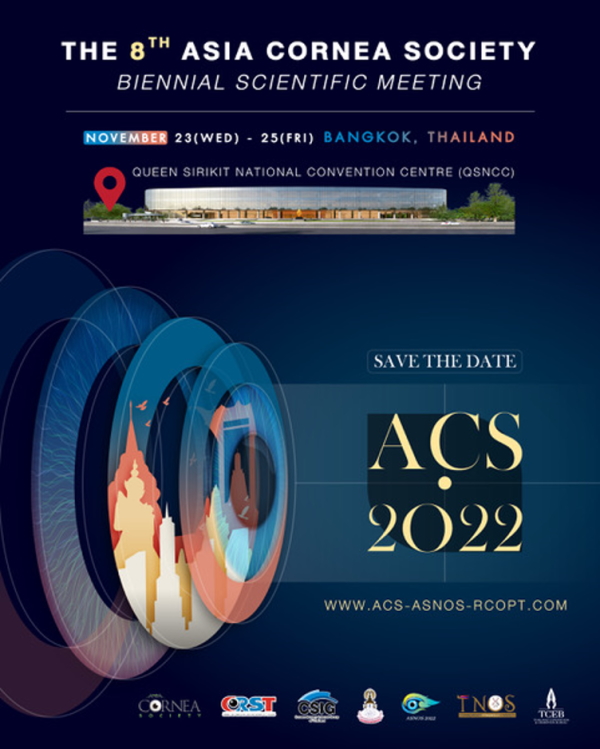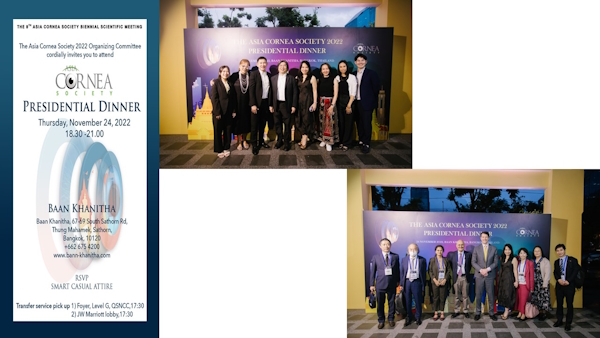 ---
EVENT DETAILS
28 - 29 Sep 2022
Chicago
World Cornea Congress VIII
The Cornea Society is excited to announce World Cornea Congress VIII Live! this Fall immediately preceding the AAO meeting September 28-29th in Chicago. This quinquennial meeting highlights every aspect of the past, current and future progress made by the international corneal community in treating corneal disease since our last meeting in 2015.
This 2-day meeting already includes 60 national and international invited speakers and a call for papers, interactive programming, and extensive networking opportunities. There will also be a poster session each day and a dedicated World Cornea Congress VIII exhibit hall.
---
EVENT DETAILS
9 - 12 Sep 2022
Virtual
A Cordial Invitation to the APAO Symposium: The Most Anticipated Advance in the Coming Decade at WOC 2022 Virtual (September 9-12, 2022)
The organization of the two symposia is led by APAO and co-hosted by seven of our subspecialty member societies listed below. Each society appointed one distinguished speaker as their representative to deliver a talk.
1. Asia Cornea Society (ACS)
2. Asia-Pacific Glaucoma Society (APGS)
3. Asia-Pacific Ophthalmic Trauma Society (APOTS)
4. Asia-Pacific Society of Ocular Oncology and Pathology (APSOOP)
5. Asia-Pacific Society of Ophthalmic Plastic and Reconstructive Surgery (APSOPRS)
6. Asia-Pacific Strabismus and Paediatric Ophthalmology Society (APSPOS)
7. Asia-Pacific Vitreo-retina Society (APVRS)

---
EVENT DETAILS
10 Sep 2022
14:00hrs - 15:30hrs
(Singapore Time UTC+8)
Virtual
---
EVENT DETAILS
Spring 2022
Virtual Meeting
Reimagining Dry Eye
An important 4-part event you don't want to miss!
This program will be a deep-dive into the pathophysiology and treatment paradigms for Dry Eye Disease (DED). This is essential knowledge for all ophthalmologists and eye care providers! Take a journey with Cornea Society faculty to understand the core of dry eye disease and a framework for management. Each session will contain clinical and surgical pearls that you will utilize on a daily basis!
---
EVENT DETAILS
23 Jul 2022
16:00hrs - 17:30hrs
(Singapore Time UTC+8)
Virtual
MANAGEMENT OF COMPLEX OCULAR SURFACE DISEASES
The Asia Cornea Society - Santen Asia Educational Grant funded by Santen Asia Pharmaceutical Asia Pte Ltd Singapore, brings "students to the teachers" with the ultimate aim of cultivating a future generation of knowledgeable and networked corneal clinicians and clinical scientists.
---
EVENT DETAILS
21 - 22 Jul 2022


VIRTUAL WORLD EYE BANK SYMPOSIUM 2022
Hosted by Eye Bank Association of Australia and New Zealand (EBAANZ)
REGISTRATION – NOW OPEN
CALLS FOR ABSTRACTS – NOW OPEN
---
EVENT DETAILS
25 Jun 2022
14:00hrs to 15:30hrs
(Singapore Time UTC+8)
Virtual
Registration will close on
17 Jun 2022
---
EVENT DETAILS
21 May 2022
14:00hrs - 17:30hrs
(Singapore Time UTC+8)
Virtual
---
EVENT DETAILS
10 Feb 2022
17:00hrs to 18:30hrs
(Singapore Time UTC+8)
Virtual
---
EVENT DETAILS
10 Jul 2021 5-7pm PDT/
11 Jul 2021 8-10am SGT
Webinar
Ocular Surface Disease Webinar
Don't miss this free webinar being provided by Cornea Society in partnership with the Asia Cornea Society.
Speakers Include
- Dr. Debbie Jacobs (USA)
- Dr. Fung-Rong Hu (Taiwan)
- Dr. Mark Mannis (USA)
- Dr. Chie Sotozono (Japan)
- Dr. Geetha Iyer (India)
- Dr. Kohji Nishida (Japan)
- Dr. Dimitri Azar (USA)
---
EVENT DETAILS
28 - 29 Apr 2021
Virtual Meeting
7th Biennial Scientific Meeting Of Asia Cornea Society
After much deliberation and taking into consideration its global impact on our lives and economy and with consideration for your health, safety and travel restrictions, the council and the Osaka working Committee have decided to postpone the 7th Asia Cornea Society Biennial Meeting to 28 – 29 April 2021. It will be a virtual meeting.
We are calling for abstracts (paper/poster) and registration for the 7th Biennial Scientific Meeting of Asia Cornea Society.
Please click on the link :
http://www.congre.co.jp/acs2020/index.html
Please note the following deadlines:
Abstract Submission deadline: 13:00, November 30 (Mon), 2020 (JST)
Early Bird Registration deadline: February 28 (Sun), 2021 (JST)
---
EVENT DETAILS
27 March 2021
14:00hrs (SGT)
Santen Vision Summit
Save the date - Virtual event
Agenda and registration details coming soon
---
EVENT DETAILS
10 December 2020
20:00hrs - 21:30hrs (UTC+8)
APACRS & ACS WEBINAR
Corneal Conundrums During COVID-19
This special webinar, hosted by APACRS and jointly organized by the Asia Cornea Society and the Association of Eye Banks of Asia, focuses on challenges-and solutions-in corneal tissue procurement for keratoplasty, in following-up corneal patients with the establishment of virtual corneal clinics as well as updates on the latest advances on keratoplasty, infectious keratitis, and the management of combined cataract and corneal diseases.
---
EVENT DETAILS
15 - 16 August 2020
Kuala Lumpur, Malaysia
APGC 2020 - 5th Asia-Pacific Glaucoma Congress
Visit the APGS website and use your APGS membership login to access communities, obtain the Asia Pacific Glaucoma Guidelines or view abstracts and recorded sessions from previous congresses.
---
EVENT DETAILS
21 - 23 June 2018
Paestum, Italy
SICSSO Congress
SICSSO CONGRESS 2018: The International Congress of the Italian Society of Stem Cells and Ocular Surface.
---
EVENT DETAILS
17 - 20 May 2018
Qingdao, China
2018 The 6th Biennial Scientific Meeting Of The Asia Cornea Society
In conjunction with the 17th national congress of cornea & Ocular Surface Diseases, Chinese Cornea Society
---
EVENT DETAILS
22 - 24 June 2017
Grosseto (Tuscany), Italy
SICSSO Congress
S.I.C.S.S.O. CONGRESS 2017: The international congress of the Italian Society of Stem Cells and Ocular Surface
---
X
Right Click
No right click